The appeal of off-grid living is growing in the world of RVs. Whether it's to escape crowded campgrounds, explore remote wilderness, or simply reduce their carbon footprint, RV enthusiasts are increasingly turning to solar power to achieve greater independence and self-sufficiency on the road. As the allure of off-grid living gains momentum, the search for the best RV solar panels has become a top priority for those who want to harness the sun's energy to power their mobile homes.
RV solar panels are a game-changer for adventurers who crave the freedom of uncharted territories. They offer a renewable and eco-friendly energy source that lets RVers break free from traditional campsites with electrical hookups and embrace a lifestyle that's more in touch with nature. No longer constrained by the availability of electricity, RVers can now venture further, stay longer, and soak up the peace and quiet of remote locations without giving up modern conveniences.
Choosing the right RV solar panels can be a challenge, with so many different options available on the market. But don't worry! We've made your buying process easier by handpicking a list of the best solar panels for RV to help you make an informed decision that suits your specific needs and budget.
In this comprehensive guide, we'll explore the key features and benefits of various solar panel options in RV solar panel reviews, delve into the different types of solar systems, and provide valuable insights on how to maximize the efficiency of your RV's solar setup. Whether you're a seasoned off-grid enthusiast or a newcomer to the world of solar power, this guide is designed to equip you with the knowledge you need to make an educated choice and empower your RV adventures with the sun's power.
[wpsm_stickypanel][contents h2][/wpsm_stickypanel]
What is an RV Solar Panel?
RV solar panels, often referred to as photovoltaic (PV) panels, are specialized devices designed to harness sunlight and convert it into electricity. They consist of multiple solar cells that work together to capture sunlight and generate electrical power.
RV solar panels are an essential part of an RV solar system, which also includes a charge controller, batteries, and an inverter. This system allows RVers to harness the sun's energy and reduce their reliance on traditional power sources such as generators and campground hookups.
These are the key components of an RV solar panel:
Solar cells: These are the heart of the solar panel, and they're responsible for converting sunlight into electricity. RV solar cells are typically made of crystalline silicon, but other materials like thin-film solar cells are also becoming more common.
Panel structure: The panel structure holds the solar cells in place and protects them from the elements. It's typically made of aluminum or another durable material that can withstand the rigors of travel and exposure to the elements.
Glass or encapsulation: A layer of glass or encapsulation material protects the solar cells from rain, dust, and UV radiation. It also allows sunlight to pass through and reach the solar cells.
Wiring and junction box: The wiring connects the solar cells to a junction box on the back of the panel. The junction box is a point of connection for the wires and often includes diodes to prevent reverse current flow.
How Does an RV Solar System Work?
An RV solar panel works by converting sunlight into electricity through a process called the photovoltaic effect. Here's a step-by-step explanation of how it works:
When sunlight hits the surface of the solar panel, it exposes the panel's solar cells to the sun's rays. These solar cells are made of semiconductor materials, typically silicon, which are specially designed to capture photons (particles of light) from the sun.
When sunlight (photons) hits the solar cells, it excites the electrons in the semiconductor material. This excitation causes some of the electrons to become energized and move within the material.
The energized electrons flow through the semiconductor material, creating an electric current. This movement of electrons generates direct current (DC) electricity within the solar cells.
The solar cells in the panel are connected in a specific way to produce the desired voltage and current output. This arrangement ensures that the individual solar cells' electrical currents are combined to provide a usable and consistent power supply.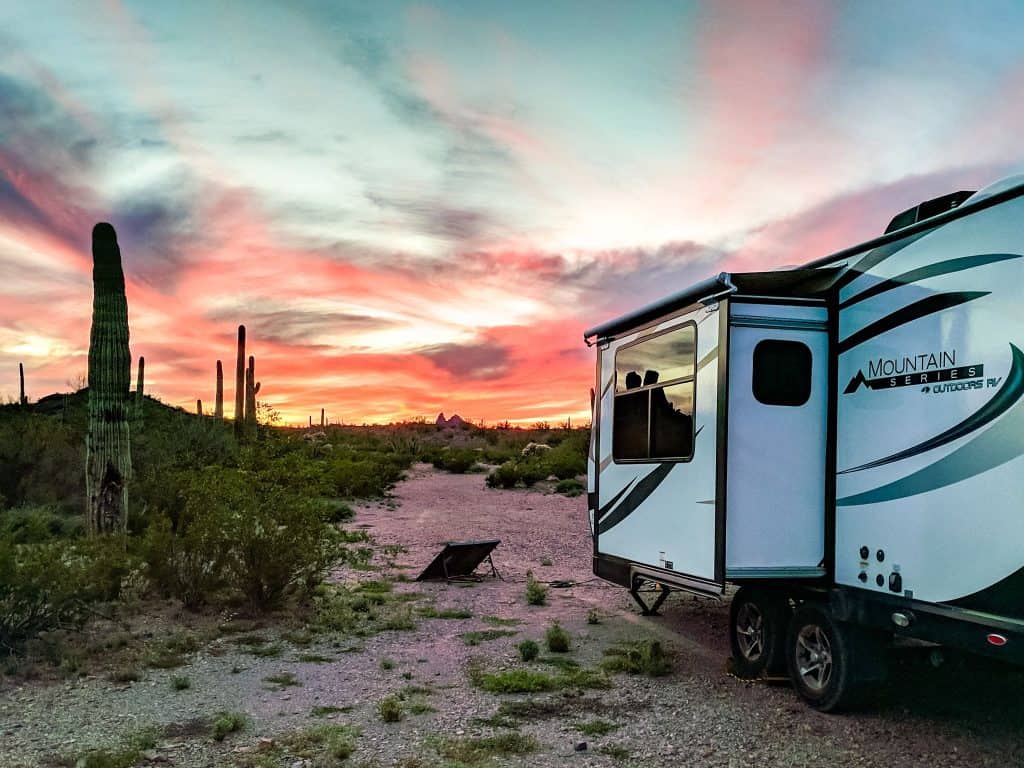 In an RV solar system, the DC electricity produced by the solar panel is directed to a charge controller. The charge controller is a critical component of the solar system, and it has several important functions:
It regulates the voltage and current from the solar panel to ensure that the RV's batteries receive the appropriate charge. This prevents overcharging, which can damage the batteries.
It optimizes the power output from the solar panel to match the RV batteries' charging needs. This ensures that the batteries are charged as efficiently as possible.
It prevents reverse current flow from the batteries to the solar panel during the night or when there is no sunlight. This prevents the batteries from discharging back into the solar panel, which can damage the RV's batteries.
After passing through the charge controller, the electricity is stored in the RV deep-cycle batteries. These batteries are designed to provide a consistent source of power for the RV's appliances and devices, even when the RV is not connected to shore power.
Many RVs also include an inverter as part of their solar system. The inverter converts the DC electricity stored in the batteries into AC electricity, which is the type of electricity that most appliances and devices use. This allows RVers to use their appliances and devices even when they are off-grid.
Best Solar Panels for RV: Top 10 Models
No more constantly refueling gas generators or stopping at electrical hookups. We've reviewed the best solar panels for RV use that will keep you powered up on your adventures off the beaten path.
Best Overall RV Solar Panel: Renogy 100 Watt 12 Volt Solar Panel Starter Kit
Material: Aluminum
Item Dimensions LxWxH: 41.8 x 1.38 x 20.9 inches
Style: Cables+Mounts
Wattage: 100
For RV owners looking to go off-grid, Renogy offers the best RV solar kit for your camper. The two lightweight, firm 100W panels are easy to mount and can handle tough weather with their aluminum, corrosion-resistant frames.
Even first-timers can install this system themselves thanks to the straightforward components like the Z brackets and pre-drilled mounting holes. The included charge controller lets you monitor system status and prevents issues like overcharging.
With easy DIY installation, useful weather indicators, and durability for off-grid adventures, this affordable starter kit has everything you need to start harnessing the sun's power for your RV.
The only downside is the aluminum cabling, which can't handle as much load as copper, but it's a small inconvenience for such a high-quality solar kit.
Best Foldable Solar Panel: ACOPOWER UV11007GD 100W
Material: Aluminum, Glass
Item Dimensions LxWxH: 25.4 x 19.9 x 2.9 inches
Wattage: 100
Need a compact, portable power option? The ACOPOWER 100W Foldable Solar Panel Kit could be the best foldable solar panels for RV trailer. This lightweight yet durable kit folds into a convenient suitcase for easy transport and storage in tight RV spaces.
Setup is straightforward with the pre-wired connections to 12V batteries. The high efficiency solar panel can collect ample energy even in low light. There is a charge controller that prevents issues like overcharging.
You may need to purchase a separate meter to switch from sealed to flooded batteries. Overall, the kit provides versatile off-grid solar where size and portability are key.
Best Portable Solar Panel: Go Power! GP-PSK-130 130W Portable Folding Solar Kit
Material: Nylon
Item Dimensions LxWxH: 32.48 x 2.76 x 19.88 inches
Wattage: 130
You need the best portable solar panels for RV for a convenient, versatile charging solution. The Go Power!'s 130W Portable Folding Solar Kit is the right choice for your needs.
It's a lightweight yet rugged folding kit that easily unfurls for quick solar charging. When not needed, you can pack it away in its heavy duty case. The adjustable legs maximize sun exposure, while the Anderson connectors let you charge various batteries as needed, from your RV to ATV.
Set up takes mere minutes right out of the box, with no permanent mounting required. However, you may want to double check the assembly and tighten some bolts initially.
Best Flexible Solar Panel: Renogy Flexible Solar Panel 100 Watt 12 Volt
Material: Metal
Item Dimensions LxWxH: 47.9 x 21 x 0.08 inches
Style: Portable or Mountable
Wattage: 100
It's a hassle to find solar panels for an RV with curved rooftops or limited space. But Renogy provides a solution with its flexible design. It's one of the best RV solar panels for uneven surfaces.
The ultra-slim 4-pound panel conforms to your Airstream or van roof, aided by strong adhesive mounting that requires no drilling. The flexible design means you can continuously adjust the angle to follow the sun's path.
While a single panel won't power a large RV alone, these are perfect for smaller campers or supplementing a bigger system. The lightweight panel holds up to tough weather elements like wind and snow.
With easy portability, a slim profile, and bendable shape for any surface, the Renogy Flexible Panel is one of the best solar panels for RV.
Most Affordable RV Solar Panel: HQST 100 Watt Polycrystalline 12V Solar Panel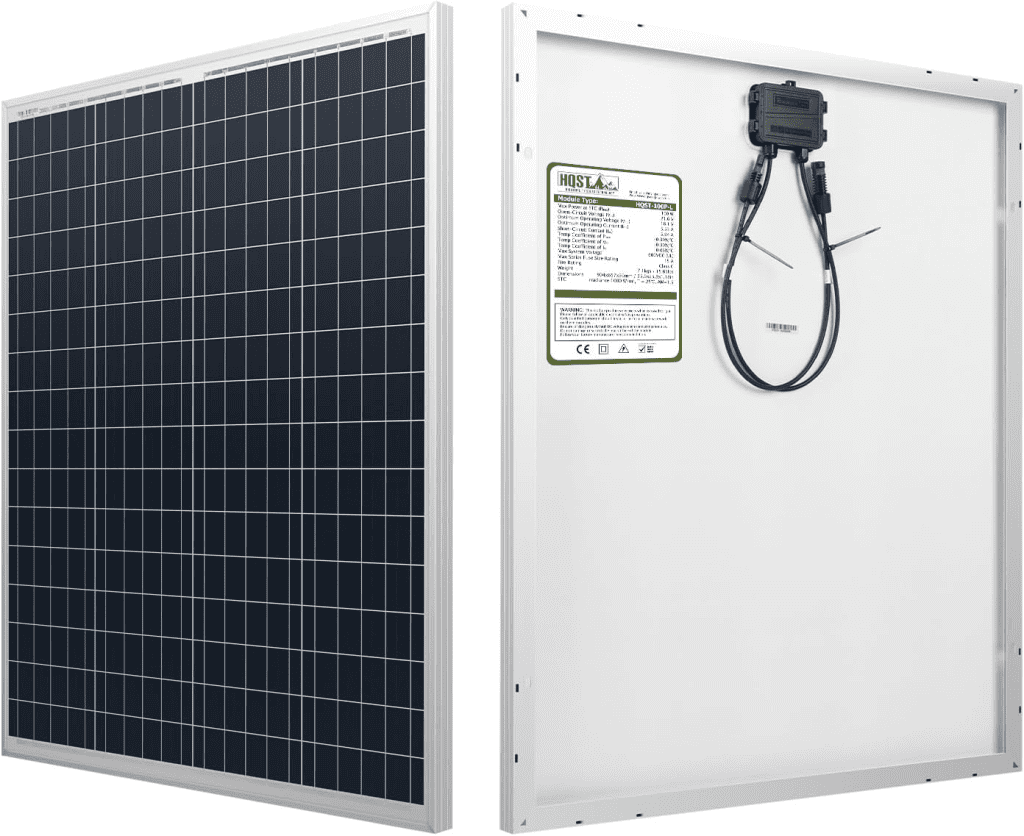 Material: Aluminum
Item Dimensions LxWxH: 35.59 x 1.18 x 25.87 inches
Wattage: 100
For RVers on a tight budget, HQST offers the most affordable solar panels for RV roof. At under $70, this basic panel provides reliable off-grid power without extra bells and whistles to hike up the price.
The lightweight aluminum frame withstands outdoor conditions, while the polycrystalline silicon cells efficiently convert sunlight. Performance is on par with pricier models, capable of running appliances and charging batteries.
Note the short cables if arranging multiple panels. Also, mounting brackets are sold separately. But it provides great value for the price conscious RV owner.
Topsolar Solar Panel Kit 100 Watt
Material: Monocrystalline Silicon
Item Dimensions LxWxH: 45.67 x 17.72 x 1.18 inches
Wattage: 100
The affordable kit includes the monocrystalline solar panel, mounting hardware, wiring, and a charge controller, offering a complete ready-to-install setup. While build quality isn't premium, performance is solid for the price.
The IP65 junction box protects against dust and water, though connectors still need rain protection. Charge controller compatibility is limited to lead acid batteries too.
Despite a few compromises, this kit punches above its weight, providing ample power during off-grid camping. It's one of the best solar panels for RV if you consider the price point.
ECO-WORTHY 100 Watt Solar Panel
Material: Aluminum, Glass
Item Dimensions LxWxH: 39.76 x 18.11 x 1.38 inches
Wattage: 100
With its combination of quality components and an affordable price, the Eco-Worthy 100W Solar Panel is our pick for one of the best solar panels for RV.
The mono-crystalline panel produces ample power for off-grid charging and running appliances, even in low light conditions. The sturdy aluminum frame and junction box stand up to outdoor use, though fit and finish is not luxury-grade.
Efficiency and output rival far pricier models, making this workhorse panel a stellar value.
Mighty Max Battery 100 Watts Solar Panel
Material: Polycrystalline Silicon
Item Dimensions LxWxH: 41.5 x 28 x 2 inches
Wattage: 100
This polycrystalline panel provides reliable performance for basic solar charging. The compact, lightweight panel is easy to mount and move around as needed. Open circuit voltage meets specs in real-world testing, though wiring sold separately is required for connections.
There are some minor lamination flaws visible inside, but overall durability is decent for the price. If you want to dip their toes into solar power, this could be a good choice for starting out.
Newpowa 100 Watts 12 Volts Polycrystalline Solar Panel
Material: Aluminum
Item Dimensions LxWxH: 35.83 x 26.57 x 1.18 inches
Wattage: 100
Newpowa offers one of the best solar panels for RV at a highly budget-friendly price. It's a great choice for RV owners needing reliable off-grid power, thanks to its rugged build and efficient output.
The heavy-duty aluminum frame and weather-resistant backsheet stand up to harsh outdoor conditions like wind, hail, and snow. Electrical performance is solid, producing ample voltage and current for charging batteries and running appliances.
For RV camping away from shore power, this durable, high-output panel has you covered. Just take care to avoid any shading, and your battery will stay charged for lights and appliances.
Allto 100W 12V Solar Panel Kits
Material: 9BB, Monocrystalline, High Quality Aluminum Frame, Tempered Glass, Weatherproof Material
Item Dimensions LxWx: 41.3 x 20.7 x 1.18 inches
Wattage: 100W
The Allto is a robust monocrystalline panel that produces ample power for charging and operating appliances. It simplifies your transition to solar.
The kit contains everything needed for hassle-free DIY installation and off-grid energy, avoiding added costs for cables or mounts down the line. Clever fail-safe controller features protect your system and provide helpful usage stats. The included MPPT controller prevents issues like overcharging.