Having the best RV awning lights is always a great idea to enjoy the great outdoors and enhance the ambiance of your RV.
These lights not only provide illumination but also add a touch of ambiance and style to your RV's awning area. Whether you're hosting a gathering, relaxing with family and friends, or simply enjoying a quiet evening under the stars, awning lights can create a warm and inviting atmosphere.
With the advancements in technology, the market is flooded with a wide range of RV awning lights with various features and designs, providing RV enthusiasts with numerous choices to enhance their outdoor experience. The best RV awning lights should combine durability, weather resistance, and versatility to withstand the rigors of outdoor use. From traditional string lights to modern LED strips, these lighting options offer a range of lighting effects and customization features to suit your specific needs.
In this comprehensive guide, we will explore some of the top RV awning lights available in today's market. We will highlight their features, pros, and cons, allowing you to make an informed decision based on your specific requirements. Whether you're a seasoned RVer or a newcomer to the world of RVing, this guide will help you find the perfect set of awning lights to illuminate and enhance your outdoor space, along with detailed information about types, buying criteria, faqs.
Let's dive in and explore the top options that will transform your RV awning into a captivating and inviting space for relaxation and enjoyment.
[wpsm_stickypanel][contents h2][/wpsm_stickypanel]
What are The Benefits of RV Awning Lights?
RV awning lights offer a range of benefits that enhance the overall experience of outdoor living. Here are some key advantages of using RV awning lights:
Enhanced Ambiance: One of the primary benefits of RV awning lights is the ability to create a warm and inviting ambiance. These lights add a soft, pleasant glow to your outdoor space, transforming it into a cozy and comfortable environment for relaxation or socializing.
Extended Outdoor Living: With the right awning lights, you can extend your outdoor living space well into the evening and night. The added illumination allows you to enjoy activities such as dining, reading, playing games, or simply unwinding outdoors even after the sun has set.
Improved Safety and Security: RV awning lights contribute to safety and security by providing increased visibility around your campsite. Illuminating the area around your RV helps prevent accidents, making it easier to navigate in the dark and avoid potential obstacles.
Versatile Lighting Options: RV awning lights come in various styles, including string lights, LED strips, lanterns, and more. This variety allows you to choose the lighting option that best suits your preferences, allowing for customization and personalization of your outdoor space.
Decoration and Style: Awning lights serve as decorative elements, adding a touch of style and personality to your RV's exterior. With different colors, patterns, and designs available, you can create a visually appealing and festive atmosphere to reflect your unique taste and create a memorable outdoor setting.
Energy Efficiency: Many RV awning lights are designed to be energy-efficient, consuming minimal power while still providing sufficient illumination. This feature allows you to enjoy extended use of the lights without draining your RV's battery or relying heavily on external power sources.
Easy Installation and Maintenance: Most RV awning lights are designed for easy installation and require minimal maintenance. They often come with user-friendly installation mechanisms, such as hooks, clips, or adhesive backings, making it convenient for RV owners to set up and remove the lights as needed.
Ideal for Various Occasions: Whether you're hosting a campground gathering, celebrating special occasions, or simply creating a relaxing ambiance, RV awning lights are versatile and adaptable to different outdoor events. They add a touch of charm and festivity, making any occasion more memorable.
By harnessing the benefits of RV awning lights, you can elevate your outdoor experiences, create lasting memories, and enjoy the comforts of home while embracing the beauty of nature.
What Are Types of RV Awning Lights?
There are several types of RV awning lights available on the market, each offering unique features and lighting effects. Let's explore the most popular options:
String Lights: String lights are a classic and popular choice for RV awnings. They feature a string or strand with multiple small bulbs attached at regular intervals. String lights often come in various lengths and bulb styles, such as traditional incandescent bulbs or energy-efficient LED bulbs. They offer a cozy and nostalgic ambiance and can be easily draped along the length of the awning.
LED Light Strips: LED light strips have gained popularity in recent years due to their flexibility, energy efficiency, and versatility. These strips consist of small LED lights mounted on a flexible adhesive strip. They can be cut to specific lengths and often come with adhesive backing for easy installation. LED light strips are available in various colors and can be controlled to create different lighting effects, such as steady illumination, color-changing options, or even synchronized with music.
Rope Lights: Rope lights are commonly used to outline the edges of RV awnings, creating a visually appealing and illuminated border. These lights consist of a flexible tube or rope that houses LED bulbs. The rope is typically made of a durable and weather-resistant material, allowing it to withstand outdoor conditions. The flexible design of rope lights allows for easy bending and shaping to fit the contours of the awning, enabling creative and customized installations. Rope lights are often available in various colors, allowing you to choose a color that matches your personal style or the desired ambiance for your outdoor space. Some rope lights even offer color-changing options, providing the flexibility to switch between different hues or lighting effects.
Solar-Powered Lights: Solar-powered RV awning lights are an environmentally friendly option that harnesses the power of the sun. These lights have small solar panels that collect solar energy during the day and use it to power the lights at night. Solar-powered awning lights eliminate the need for batteries or external power sources, making them convenient and cost-effective.
Lantern Lights: Lantern lights combine the functionality of traditional lanterns with modern lighting technology. These lights often feature a lantern-style design with built-in LED bulbs. They can be hung from the RV awning or placed on a table or hook. Lantern lights offer a charming and rustic aesthetic and are often designed to be weather-resistant and portable.
Awning Track Lights: Awning track lights are specifically designed for RV awnings with built-in track systems. These lights feature a long strip that can be easily inserted into the awning track, providing a seamless and integrated lighting solution. Awning track lights often come in LED options, offering energy efficiency and customizable lighting effects.
Patio Lights: Patio lights, also known as bistro lights or cafe lights, are a charming option for RV awnings. These lights feature a string of larger bulbs that emit a warm and inviting glow. Patio lights often have a vintage or retro-inspired design, adding a touch of elegance and style to your outdoor space.
Top 5 RV Awning Lights on the Market
Best Weatherproof LED RV Awning Lights: LATCH.IT V2.1
At a glance:
Length: 20ft
Color: Multicolor
Light Source Type: LED
Power Source: Corded Electric
Light Color: Multicolor
Material: Polycarbonate
Controller Type: Remote Control
Why we love it:
The LATCH.IT V2.1LED lights for RV awning are an excellent addition to enhance your camping experience. These lights are user-friendly, safe, and built to last, providing a peaceful and enjoyable atmosphere during your outdoor adventures.
What sets the LATCH.IT V2.1 apart is its superior weatherproof design. The V2.1 LED Strips feature a silicon tube housed within a UV-treated polycarbonate channel, ensuring exceptional waterproofing. With all connections being waterproof, these lights boast an impressive IP68 rating, making them highly resistant to rain and other outdoor elements. The 3M VHB tape backing on the LED Strips and PC Channels further enhances their security, ensuring a tightly secured fit on your camper or RV.
With a length of 20 feet, these lights can effortlessly cover the entire length of your awning, providing ample illumination. This strip can be easily cut to fit most awnings, allowing for customization to meet your specific requirements. The RGB bulb scheme enables you to create a captivating ambiance with a brightness of up to 1800 lumens, making your outdoor surroundings come alive.
Additionally, an RF remote control is included, allowing you to conveniently control the light's features from anywhere. With the remote, you have the freedom to change colors and adjust brightness, giving you full control tailoring the lighting to your preference. The lights are powered by a pair of 12V DC adapters, ensuring a reliable and efficient power supply.
The package includes everything you need for a high-quality lighting installation, including a wireless remote control, ensuring a hassle-free experience. To ensure easy installation, a 20-foot polycarbonate channel is included, allowing you to mount the lights seamlessly on the awning or RV's side profile.
When installing the lights, it's important to secure the strip to the side of your RV, right underneath the awning, rather than directly on the awning fabric. This precaution ensures that you avoid any potential damage to your awning fabric, maintaining its pristine condition.
Pros
Weatherproof design
Adjustable length: The LED strip can be easily cut to fit most awnings
Easy installation with full kits included
Cons
Best Multicolor RV Awning Lights: EXCELFU LED Awning Lights for RV
At a glance:
Length: 20ft
Color: RGB
Material: Vinyl
Waterproof Rate: IP68
Voltage: 12v Dc
Led Quantity: 60 leds/ft
Life Span: More than 50,000 Hours
Why we love it:
The ExcelFu RV Awning Lights are a versatile multicolor lighting solution designed to enhance your outdoor camping experience. ExcelFu, known for its commitment to quality and affordability, continuously listens to consumer feedback to improve its products.
The LED strip of the ExcelFu RV Awning Lights has 20 feet length, providing ample coverage for your awning area. The included pair of 12V DC power cords ensures a secure and convenient connection to your RV's power outlet. The waterproof connector guarantees uninterrupted performance even in rainy conditions, making it ideal for all seasons.
Controlling the light colors and brightness is effortless, thanks to the dedicated remote controller. This remote works in conjunction with the control center, granting you easy access to various light functions. Additionally, the strip is trimmable, and guiding lines are provided for precise cutting.
The ExcelFu RV Awning Lights have a wide range of applications. Whether you need bright white lighting or vibrant RGB colors for a party atmosphere, these lights can create the perfect ambiance for your outdoor activities. The IP68 waterproof rating guarantees durability and protection against rain, snow, and harsh weather conditions, ensuring worry-free usage.
Installation is a breeze with the firm self-adhesive 3M tape. Simply peel off the backing, stick the light strip onto a smooth surface, and it will stay securely in place. The LED strips can be easily cut to the desired length using the marked cut lines, allowing you to customize them to fit your RV, camper, motorhome, travel trailer.
Pros
Multicolor: offer both white and RGB color options
The strong self-adhesive 3M tape ensures secure installation
Cons
The RF remote control may experience interference or limited range in certain environments
Best Solar-Powered RV Awning Lights: DBFAIRY Solar LED Lights
At a glance:
Strip Length: 32.8ft
LED Quantity: 300pcs
Light Color: Cool White
Remote Control: Smart Control with 12Keys Button
Power Source: Solar Powered
8 Twinkle Modes: Steady on, In Wave, Sequential, Slo-Glo, Chasing Flash, Fade, Twinkle Flash, Combination
Material: Copper+Plastic
Solar Panel Rotatable: 180° Rotatable
Why we love it:
The DBFAIRY Solar LED Lights are offer a convenient and eco-friendly lighting solution for camper awning. With a long length of 32.8 feet, these solar-powered LED strip lights provide ample coverage for various decorative applications. The strip features cool white lighting with 300 LEDs, which can be conveniently cut according to your desired length using the "scissors" sign on the strip.
One standout feature of these lights is the large capacity solar panel, making it the best solar powered awning lighting for camper. Compared to other options, this solar panel offers increased charging efficiency and quicker charging times. With approximately 6 hours of charging in strong sunlight, the strip can provide illumination for 8 to 20 hours after being fully charged. To ensure optimal charging, it is recommended to position the solar panel to face direct sunlight.
The DBFAIRY Solar LED Lights are designed for effortless operation. They come with a built-in dusk-to-dawn sensor, enabling automatic on and off functionality. Once set up, you no longer need to manually turn the lights on or off each day as they will automatically adjust based on the ambient light conditions.
With 8 different twinkle and flash modes, you have the flexibility to create various lighting effects. By pressing the button on the back of the solar panel, you can cycle through options such as twinkle, flash, chasing flash, and steady on. This allows you to customize the lighting ambiance to suit your preferences and create the desired atmosphere for different occasions.
The versatility of these solar LED lights is another highlight. Whether you need lighting for indoor or outdoor spaces, the long strip length makes it suitable for a wide range of applications. Enhance your kitchen area by placing the solar panel outdoors, or use the lights to decorate a hippie houseboat, shed, roof, stair, step, house, wood deck, pergola, fence, and more.
The combination of solar power, automatic on/off functionality, and customizable lighting effects make them a practical and aesthetically pleasing choice for both indoor and outdoor use.
Pros
Solar-powered design eliminates the need for external power sources and reduces energy costs.
Automatic on/off functionality
8 lighting modes
Cons
The performance of the lights in low-light or shaded areas may be limited.
Require additional mounting options
Best Remote-Controlled Awning RV Lights: WELLUCK RV LED
At a glance:
Color: Multicolor
Control Method: Remote
Special Feature: Dimmable
Light Source Type: LED
Power Source: Corded Electric
Light Color: White, Warm White
Why we love it:
Another versatile and convenient lighting option for camper awning is the WELLUCK RV LED Light. This kit provides everything you need for installation and remote control, making it a user-friendly option.
The RV LED camper awning lights from Welluck offer a dimmable setup with LED bulbs. The included RF remote allows for easy control of brightness and color patterns, providing convenience at your fingertips. The lights are powered by a pair of 12V DC adapters, ensuring a reliable power source. The light strip fits perfectly inside the 12-foot tube using the provided tape, and the tube can be securely mounted on any surface.
One of the key features of these lights is the option to choose between warm white and RGB modes. This versatility allows you to create various lighting effects and moods, making your outdoor space more enjoyable. The brightness is adjustable, providing you with the desired level of illumination.
The WELLUCK RV awning LED light strip comes as a comprehensive kit that includes all the necessary components for installation. The package includes a 12″ RGB LED strip, an RF LED remote control, an RF receiver, LED strip tubes, power adapters, LED strip caps, tape for the tube, sealing tape, and a manual book. This all-in-one kit ensures a hassle-free setup process.
Installation is simple, and you can easily customize the length of the LED light strip to fit your specific requirements. The lights can be wired directly to any dry and clean place, such as a porch light, light switch, or any 12V source. The power adapters are included for your convenience.
In addition to being energy-saving with its DC 12V working voltage power adapter, these LED lights are also safe to use, as they produce extremely low heat and are touchable. The longevity of each LED strip is impressive, with a lifespan of up to 50,000 hours. Their durability ensures reliable performance even in challenging outdoor conditions.
Pros
Dimmable and adjustable brightness
Energy efficient
Wide application
Cons
Corded electric power source
Best RV Awning Globe Lights: Camco 42772 Decorative RV Awning
At a glance:
Bulb capacity: Each globe can accommodate a maximum 60W A19 bulb
Color options: The globes are available in various colors, including green, bronze, clear, red, white, blue, purple, yellow, and orange.
Wire options: Sets come with options of white or black wire.
Why we love it:
Whether you're looking to add a touch of elegance to your RV or create a festive atmosphere for outdoor gatherings, the Camco 42772 RV awning globe lights are a reliable and stylish choice.
These outdoor globe lights are specifically designed for outdoor use, making them perfect for RV campsites, tailgating parties, and various outdoor settings. They offer an excellent way to illuminate your recreational vehicle, awnings, decks, patios, and porches while adding a festive and inviting atmosphere.
The lighting strand consists of ten large globes with coiled cords in between, extending over 30 feet. Each globe is thoughtfully designed with a molded-in awning hanger that easily fits into your RV or trailer's awning track. Additionally, you can use an S-hook to hang the lights in different locations, providing versatility in placement. The globes have a diameter of 6 inches, offering a noticeable and eye-catching appearance.
Assembly is a breeze with these globe lights, and they are available in assorted colors, allowing you to customize the ambiance to your liking. The globes are constructed with durable and UV-stabilized polycarbonate, ensuring weather resistance and shatterproof performance. This makes them suitable for outdoor use, withstanding the elements and providing long-lasting functionality. The lights are also LED compatible, further enhancing their energy efficiency.
Each globe light is capable of producing up to 60 watts of light, creating a bright and inviting environment. However, it's important to note that bulbs are not included with the lights, allowing you the freedom to choose the desired bulb type and wattage for your specific needs.
The globes come in a wide range of colors such as green, bronze, clear, red, white, blue, purple, yellow, and orange. Sets also provide options for both white and black wire, allowing you to select the one that best matches your style and preferences.
Pros
Durable construction
Appealing design
Multiple mounting options
Cons
Factors to Consider When Choosing RV Awning Lights
When selecting the best RV awning lights, several factors come into play. It's important to consider the length of the awning, power source options, control mechanisms, ease of installation, and overall quality. Additionally, factors such as brightness levels, color options, and energy efficiency should also be taken into account.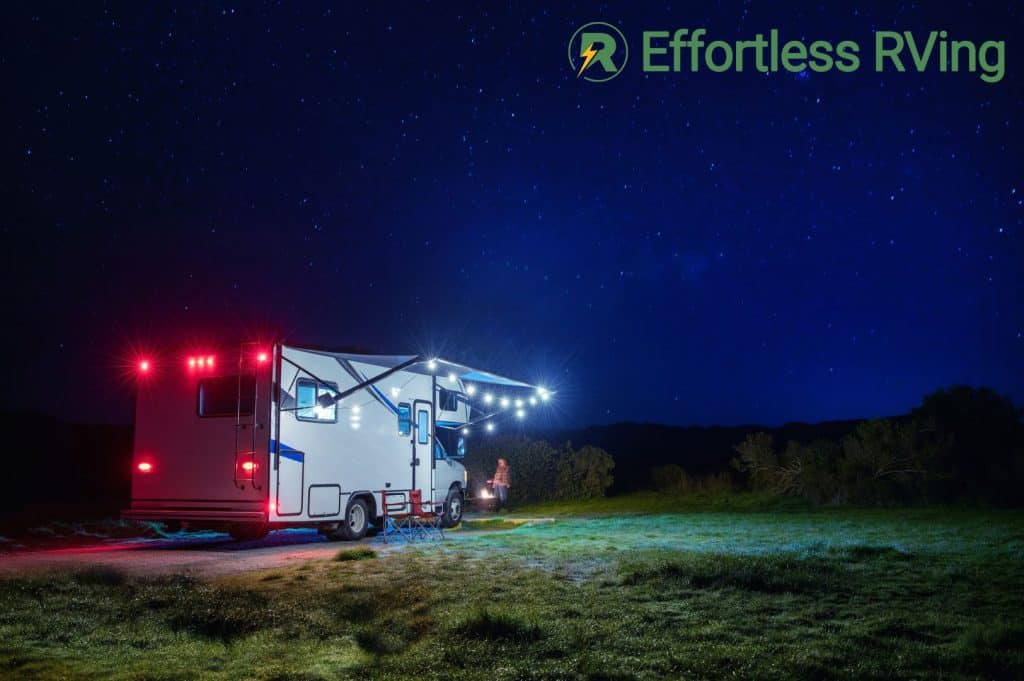 Type of Lighting
Consider the type of lighting that suits your preferences and desired ambiance. Whether you prefer string lights, LED light strips, lantern lights, rope lights, or other options, choose a type that complements your RV's style and provides the desired lighting effect.
Power Source
Determine the power source that best fits your needs. RV awning lights can be powered by batteries, solar energy, or connected directly to your RV's electrical system. Consider your camping habits, availability of power sources, and convenience of each option.
Brightness and Color Options
Evaluate the brightness levels and color options available with the awning lights. Some lights offer adjustable brightness settings, allowing you to customize the lighting intensity. Additionally, consider whether you prefer single-color lights or lights that offer a variety of color options or color-changing effects.
Durability and Weather Resistance
Since RVs are exposed to various weather conditions, ensure that the awning lights are designed to withstand outdoor elements. Look for lights that are waterproof, weather-resistant, and built with durable materials to ensure longevity and reliable performance.
Installation and Versatility
Consider the ease of installation and versatility of the awning lights. Look for lights that come with user-friendly installation mechanisms, such as hooks, clips, or adhesive backing. Additionally, assess whether the lights can be easily adjusted or repositioned to suit different awning configurations or other outdoor spaces.
Energy Efficiency
Opt for energy-efficient RV awning lights to prolong battery life and reduce energy consumption. LED lights are known for their energy efficiency and are a popular choice for RV lighting due to their low power consumption and long lifespan.
Budget
Set a budget for your RV awning lights and consider the cost of the lights, including any additional accessories or installation requirements. Remember to balance cost with quality and ensure that the chosen lights meet your desired specifications.
Reviews and Recommendations
Research customer reviews and seek recommendations from fellow RV owners or online communities. Their experiences and insights can provide valuable information about the performance, reliability, and overall satisfaction of specific brands or models of RV awning lights.
How to Install RV Awning LED Lights?
Installing RV awning lights can enhance the ambiance of your outdoor living space and create a welcoming atmosphere during your camping adventures. Here's a step-by-step guide on how to install them:
Materials Needed:
RV awning lights
Mounting clips or hooks (depending on the type of lights)
Cleaning supplies (water, mild soap, and a cloth)
Power source (battery pack, solar panel, or access to an electrical outlet)
Step 1: Choose the Right Awning Lights
Before starting the installation process, choose the RV awning lights that best suit your preferences and needs. Consider factors such as lighting style, power source, weather resistance, and length.
Step 2: Clean the Awning Surface
Prepare the awning surface by cleaning it thoroughly. Mix water with mild soap and use a cloth or sponge to remove any dirt, dust, or debris. Ensure the surface is dry before proceeding.
Step 3: Plan the Placement
Determine where you want to place the lights on your RV awning. Measure the length of your awning to ensure you have enough lights to cover the desired area. Decide whether you want the lights to run along the edge of the awning, create a specific pattern, or be positioned in any other configuration. Take into account the accessibility of the power source and the desired lighting effect.
Step 4: Attach the Mounting Clips or Hooks
If your awning lights come with mounting clips or hooks, attach them to the designated spots on the awning rail. Make sure they are securely fastened and evenly spaced along the length.
Step 5: Install the Awning Lights
Carefully unroll the awning lights and position them onto the mounting clips or hooks. Ensure the lights are aligned and positioned as desired. If the lights come with adhesive backing, remove the protective film and press them firmly onto the awning surface.
Step 6: Connect the Power Source
Depending on the type of awning lights you have chosen, connect the power source accordingly. If using battery-powered lights, insert the batteries into the battery pack or compartment. For solar-powered lights, position the solar panel in a spot where it can receive ample sunlight. If using electrically powered lights, connect the plug to an electrical outlet or generator.
Step 7: Test the Lights
Once the lights are installed and connected to the power source, test them to ensure they are functioning correctly. Turn on the lights and check for any issues or malfunctions. If needed, make adjustments or troubleshoot accordingly.
Step 8: Secure Loose Wires or Cords
If there are any loose wires or cords from the awning lights, secure them to prevent them from dangling or getting caught on objects. Use zip ties or adhesive clips to neatly secure the wires along the awning or RV frame.
Step 9: Enjoy Your Awning Lights
With the installation complete, it's time to enjoy the cozy and inviting ambiance created by your RV awning lights. Sit back, relax, and bask in the warm glow of your beautifully illuminated outdoor space.
Always prioritize safety during the installation process. If you are unsure about any step or need assistance, refer to the manufacturer's instructions or consult a professional. By following these steps, you can successfully install awning lights on your RV and enjoy the enhanced lighting and atmosphere they provide.
FAQs about Camper Awning Lights
What voltage are RV awning lights?
RV awning lights typically operate at a voltage of 12 volts (12V). This voltage is commonly used in RV electrical systems and is compatible with the 12V battery supply commonly found in RVs. It allows for safe and efficient operation of the awning lights while minimizing power consumption.
How long do RV awning lights typically last?
The lifespan of RV awning lights can vary depending on factors such as the quality of the lights, usage patterns, and maintenance. However, on average, RV awning lights can last for several thousand hours of operation. High-quality LED awning lights tend to have longer lifespans compared to traditional incandescent or halogen lights. Regular maintenance and proper usage can help maximize the longevity of RV awning lights.
Can I leave my RV awning lights on overnight?
Yes, you can leave your RV awning lights on overnight. However, it is important to consider the power source and the type of lights you are using. LED lights, which are energy-efficient, are typically safe to leave on for extended periods. It is advisable to check the power consumption of your awning lights and ensure they are compatible with your RV's electrical system. Additionally, be mindful of conserving battery power and consider using a timer or dimmer to control the duration and brightness of the lights
What is the best type of RV awning lights?
The best type of RV awning lights often depends on personal preference and specific needs. However, LED lights are commonly considered an excellent choice for RV awning lighting. LED lights are energy-efficient, have a longer lifespan, produce vibrant illumination, and come in various colors and styles. They also generate less heat, making them safer to use. It is recommended to choose high-quality LED awning lights that are waterproof and designed for outdoor use to ensure durability and optimal performance in RV settings.
Why do RV LED lights flicker?
RV LED lights can flicker due to several reasons. One common cause is voltage fluctuations within the RV's electrical system. When the voltage supplied to the LED lights fluctuates, it can result in flickering. This can happen if there is an issue with the power source or if multiple appliances are drawing power simultaneously. Additionally, poor wiring connections or loose connections can also cause flickering. It's important to ensure a stable power supply, check for any loose or faulty connections, and consider using voltage stabilizers or regulators to mitigate flickering issues with RV LED lights.