Choosing the best RV water pumps for your travels shouldn't be stressful. The right pump can make your travel enjoyable by supplying hot water for showers and other necessities.
Top-rated RV pumps deliver excellent water pressure, rugged reliability, and can handle demands you didn't even know you had. So, we've made a compilation of the ten best products in the market. These units have an ideal flow rate, PSI between 40 and 70, and heavy-duty, corrosion-proof construction.
Read on to learn more about the features and specifications of each selection so that you can make the best decision for your RV.
[wpsm_stickypanel][contents h2][/wpsm_stickypanel]
What is an RV Water Pump?
An RV water pump is a device designed to provide a steady flow of water in recreational vehicles (RVs) or motorhomes. It is typically used to draw water from a fresh water tank and distribute it throughout the RV's plumbing system, including faucets, showers, toilets, and other water fixtures.
The water pump operates using an electric motor that creates suction to draw water from the tank and pressurize it. When a water fixture is turned on, the pump senses the drop in pressure and automatically activates to maintain a constant water flow. Once the fixture is turned off, the pump shuts off to conserve power and prevent unnecessary cycling.
RV water pumps are compact in size and are usually installed in a convenient location within the RV, such as near the water tank or behind a panel. They are powered by the RV's electrical system, typically running on 12-volt DC power, although some larger RVs may have pumps running on 24-volt systems.
Having a reliable water pump is essential for RV owners to ensure a consistent water supply for various activities, such as cooking, cleaning, and personal hygiene, while traveling or camping in remote locations where a direct water hookup may not be available.
How Does an RV Water Pump Work?
An RV water pump gets your water system flowing with a simple yet powerful design. It uses 3 to 5 flexible diaphragm chambers and an electric motor to generate water pressure. Although basic, this setup allows an RV water pump to work with maximum functionality.
The pumps run on a 12-volt system that maintains a pressure in the water lines. When you turn on a water fixture, like the faucet or shower valve, that built-in pressure gets released. It triggers the pump into high gear to rapidly push out water. It will keep doing this until it reestablishes the correct pressure, which is when you turn off the water.
Shut off the water when you're done and the pump automatically cuts out. At that point, the pressure in the pipes naturally stays buoyant until the next time you need a splash. This on-demand design is efficient and keeps things simple.
Technically, an RV water pump works by utilizing a combination of suction and pressure to draw water from a fresh water tank and distribute it throughout the RV's plumbing system. Here's a step-by-step overview of how it typically operates:
Power supply: The RV water pump is connected to the RV's electrical system and usually runs on 12-volt DC power. When the power is turned on, the pump is ready to function.
Suction and priming: The pump creates suction by using an impeller, which is a rotating component with vanes. As the impeller spins, it creates a low-pressure area, causing water to be drawn into the pump from the fresh water tank through an inlet or intake pipe. This process is known as priming the pump.
Water flow: Once the pump has successfully primed and water is drawn into the system, it is then pushed through the pump and into the RV's plumbing network. The pump pressurizes the water to ensure a consistent flow and sufficient pressure at the water fixtures.
Pressure switch: When a water fixture, such as a faucet or shower, is opened, it creates a drop in pressure in the plumbing system. This drop is detected by a pressure switch or sensor connected to the pump.
Pump activation: When the pressure switch senses the drop in pressure, it triggers the pump to activate. The pump's electric motor starts running, and the impeller generates pressure to push the water out of the pump and towards the open water fixture.
Water usage: As water flows from the pump, it travels through the plumbing system, reaching the desired water fixtures in the RV, such as sinks, showers, toilets, or outdoor faucets. Users can control the flow by adjusting the fixture's valve.
Pump deactivation: Once the water fixture is turned off, the pressure in the plumbing system increases. The pressure switch detects this increase and signals the pump to shut off. This prevents unnecessary cycling and conserves power.
It's worth noting that some RV water pumps have additional features, such as built-in filters to prevent debris from entering the system or automatic shut-off mechanisms to protect the pump from damage if the water supply runs dry.
What Are The Advantages of Camper Water Pump?
Overall, the RV water pump plays a vital role in ensuring a steady water supply within the vehicle, allowing occupants to enjoy various water-based activities while on the road or at remote camping locations. Here are some benefits of using water pump for camper:
Water independence: With an RV water pump and a fresh water tank, you can have access to water wherever you go, even in locations without a direct water hookup. This provides you with the freedom to camp or travel in remote areas without relying on external water sources.
Convenience: Having a reliable water pump in your RV allows for convenient access to water for various activities. You can use it for cooking, cleaning, washing dishes, personal hygiene, and more. It eliminates the need to carry water containers or rely on limited water supplies.
Consistent water pressure: RV water pumps are designed to provide consistent water pressure throughout your RV's plumbing system. This ensures a reliable and comfortable water flow, making showers more enjoyable and facilitating efficient use of water fixtures.
Water conservation: RV water pumps typically have built-in pressure switches that activate the pump when a water fixture is opened and shut it off when the fixture is closed. This feature helps conserve water by preventing wastage when fixtures are left open accidentally.
Energy efficiency: Most RV water pumps are designed to be energy-efficient, drawing power from the RV's electrical system. They are engineered to operate using low voltage (usually 12 volts DC) to minimize power consumption, making them suitable for RVs with limited power resources.
Compact and space-saving: RV water pumps are designed to be compact and lightweight, allowing for easy installation in the RV's plumbing system. They can be installed in convenient locations, such as near the water tank or behind panels, without taking up excessive space.
Easy maintenance: RV water pumps are generally low-maintenance devices. Regular maintenance usually involves simple tasks such as cleaning or replacing the pump's filters, inspecting connections for leaks, and ensuring proper priming. Manufacturers often provide instructions for routine maintenance.
Emergency backup: In the event of a water supply disruption or failure at a campsite, an RV water pump can serve as an emergency backup. If you have a separate portable water source, such as jerry cans or containers, the pump can draw water from them and provide temporary access to water until the situation is resolved.
10 Best RV Water Pumps: In-depth Reviews
We've tested dozens of pumps to separate the mediocres from the best RV water pumps. Our recommendations will ensure smooth-flowing, safe water whether you're at a campground or bumping down a dirt road.
Bayite 12 Volt RV Water Pump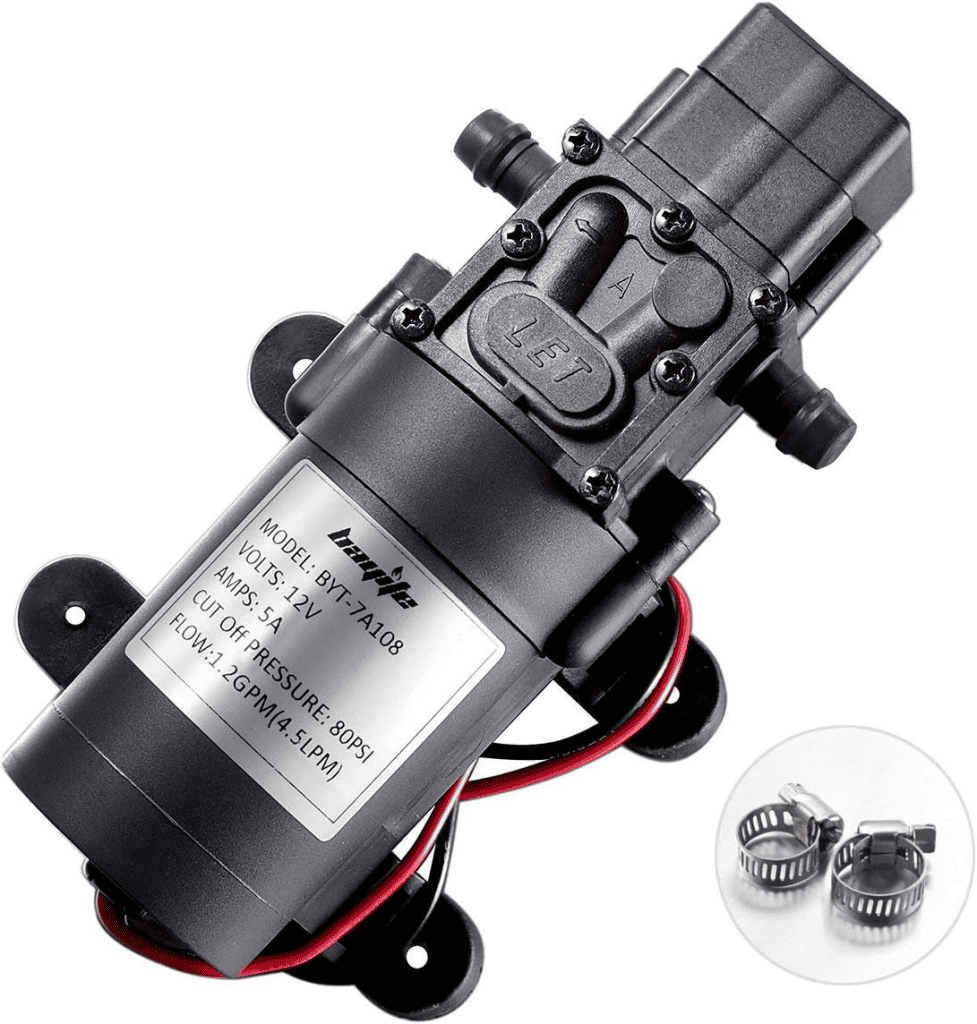 The Bayite 12 Volt RV Water Pump is one of the best RV water pumps and offers a consistent and smooth flow. The pump also has two hose clamps for a secure connection, making it an excellent choice for RV owners.
You can use it for showers, lawns, RVs, boats, garden sprinklers, caravans, etc. The high-quality rubber and plastic construction ensures a consistent and smooth water flow. Its temperature range is 32~140°F/0~60°C and can be used even in wet environments.
The pump is powered by 12 volts, making it suitable for almost any RV application. That much power ensures a high flow rate of 4.5 L/minute, allowing it to handle large water demands.
Positive
Electro-coating and sealed switches prevent corrosion
Runs on a 12V system
Has a high flow rate of 4.5 L/minute
Negatives
RecPro RV Water Pump Shurflo 4008-101-A65 3.0 GPM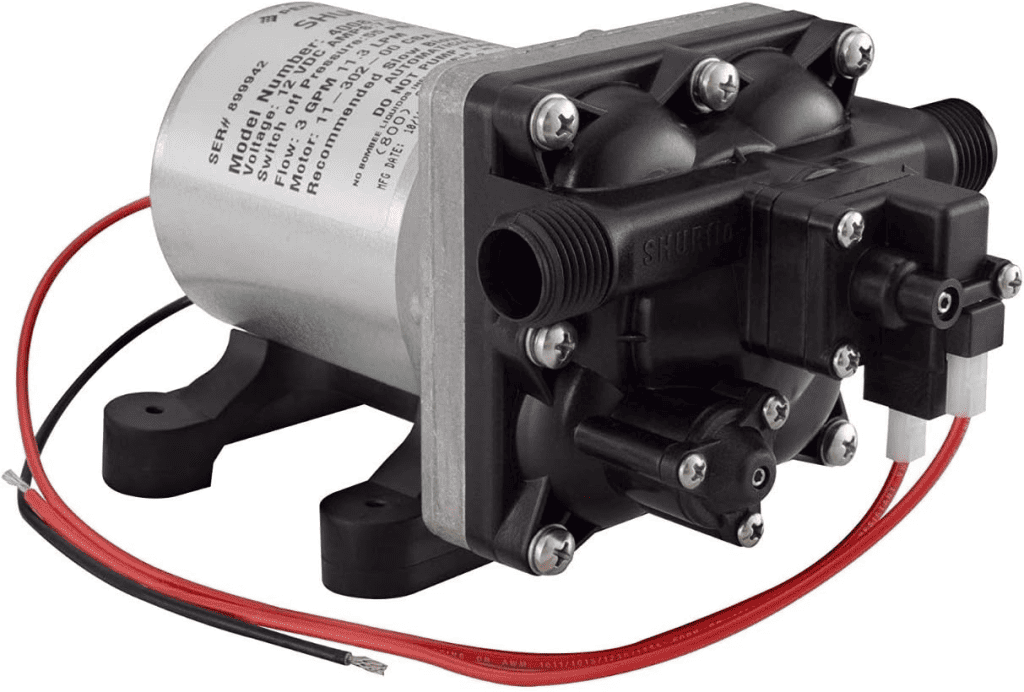 Designed to be used in any recreational RV, the RecPro self-prime unit is a reliable, thermally protected, and easy-to-install water pump. Its high-quality construction with corrosion-resistant materials ensures long-lasting durability.
It can provide a consistent flow rate of up to 3.0 GPM, with a maximum pressure of 55 PSI, making it an ideal choice for all RV owners. However, its maximum pressure of 55 PSI could be insufficient for some users' needs.
With its thermal protection and backflow prevention feature, this pump will keep your RV water system running smoothly without any issues.
Positive
Corrosion-resistant materials
Runs quietly, minimizing noise disturbance
Built-in check valve prevents backflow
Consistent water pressure
Easy maintenance
Negatives
Maximum pressure is only 55 PSI
SEAFLO Water Diaphragm Self-Priming Pump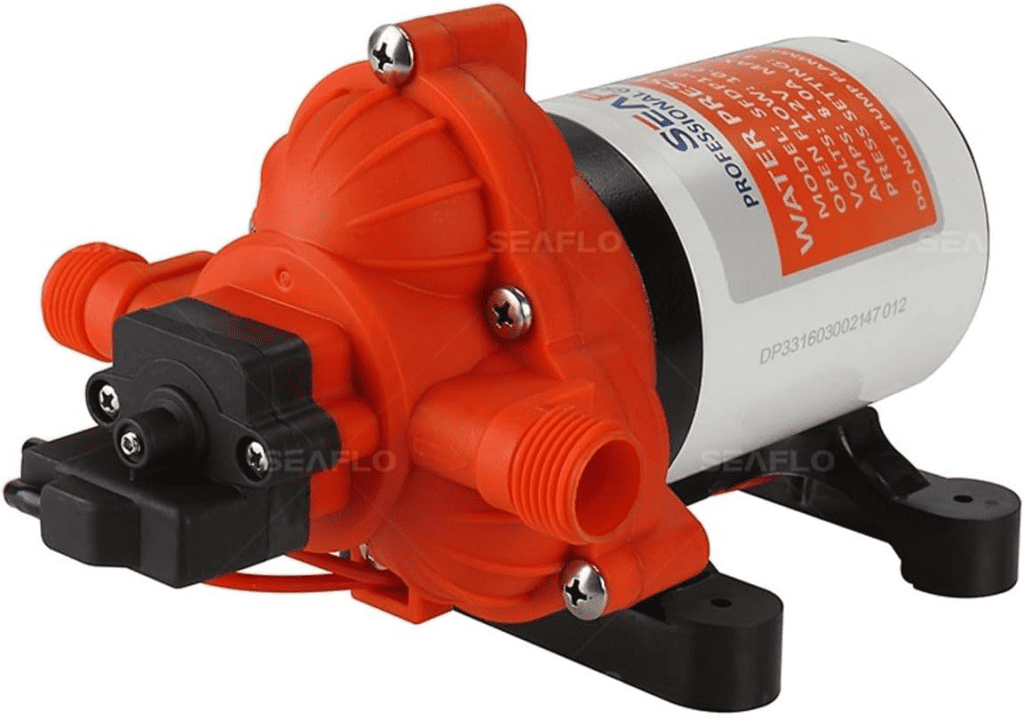 If you're looking for the best RV water pumps, the SEAFLO pump is the right choice. This three-chamber pump is designed to provide the highest efficiency and durability.
It has a maximum head of 25 feet and can push up to 3 gallons of water per minute. It features a self-priming feature that helps maintain a consistent water supply. There is an adjustable pressure switch, allowing you to adjust the pressure to meet your RV's needs.
Positive
Runs quietly
Pushes up to 3 GPM
Adjustable pressure switch
Negatives
Unsuitable for heavy-duty applications
Lippert Components Flow Max Water Pump for RVs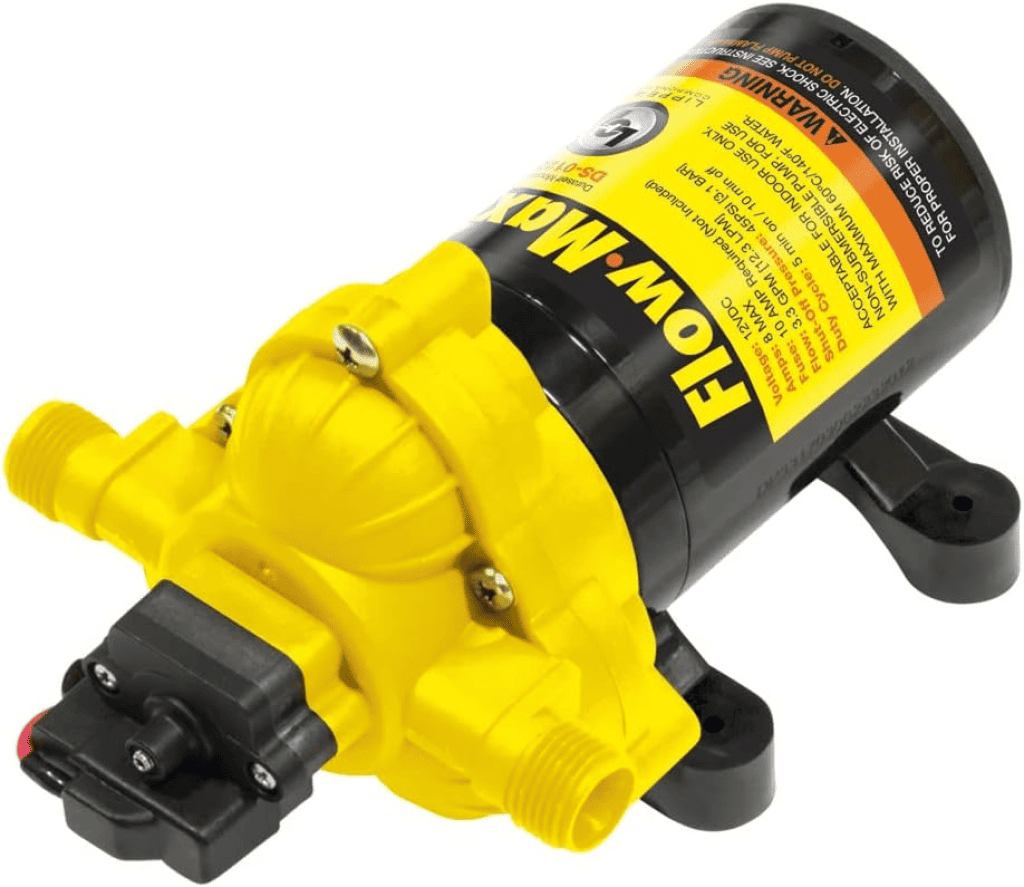 This water pump is designed to run dry. It means you don't have to worry about keeping a full tank to prevent overheating. It's a good choice if you want the best RV water pump 12V. However, there is also a 115V model available, so choose whichever one suits your needs.
The pump has a built-in screen filter to remove dirt, debris, and contaminants, so you can rest assured your water is clean and safe to drink.
With its high-powered 50 PSI motor, this pump is the best water pump for RV to provide your RV with the water pressure it needs. Despite having a powerful system, you can call it the best quiet RV water pump. No need to worry about disruptive noises in the campground. 
Positive
Heavy-duty rust and corrosion-resistant pump
Available in both 115V and 12V configurations
Quiet operation
Comes with all components necessary for installation
Negatives
May leak after prolonged use
DC HOUSE 42-Series Upgrade Water Pressure Pump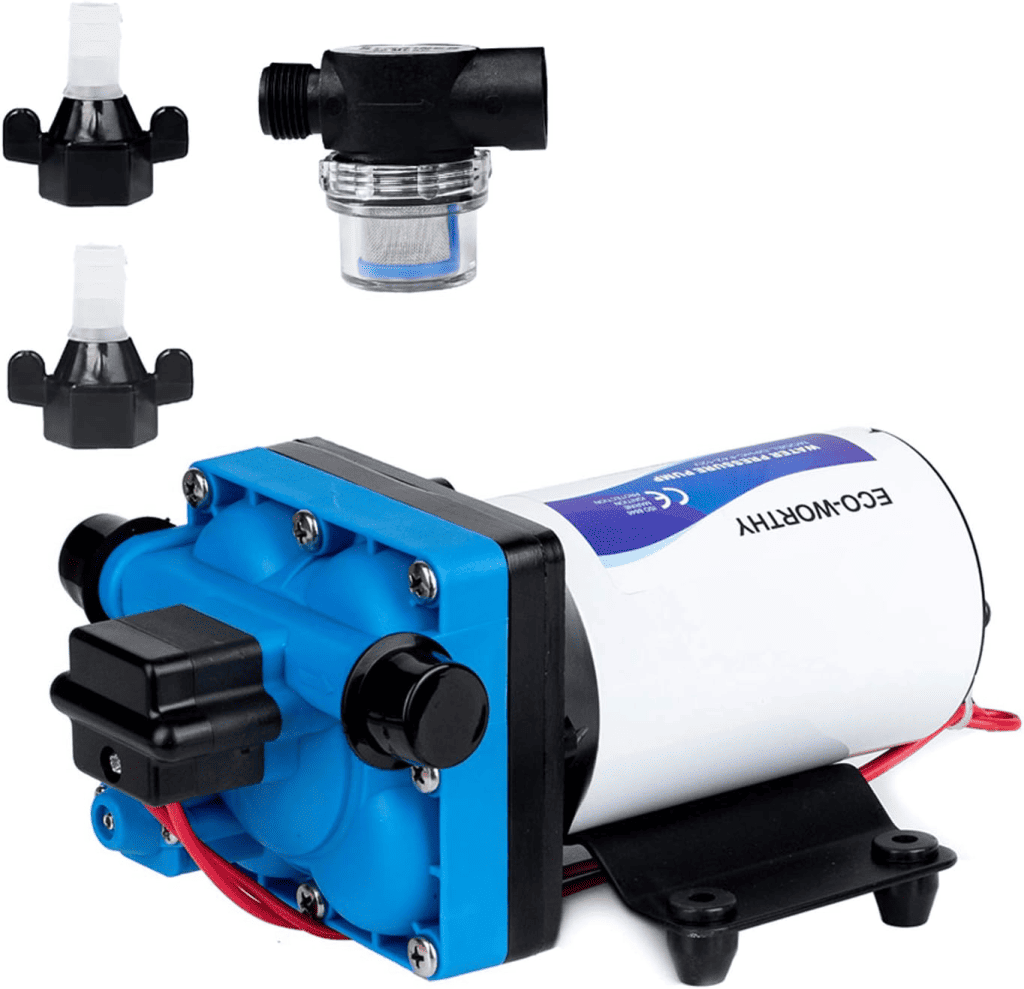 The pump features a 9.8 vertical feet maximum lift. This ensures your water pump can handle the most demanding water pressure situations.
It also features an adjustable pressure switch set to any pressure from 0 to 80 PSI. This lets you ensure your pump is continually working to its maximum efficiency.
DC House can deliver up to 18.9L/minute, making it one of the most powerful water pumps on the market. Your RV will always have plenty of water pressure, no matter your needs.
Positive
Materials are resistant to corrosion
The pump is relatively quiet during the operation
Easy remove inlet filter for cleaning
1/2″ hose for easy outlet and inlet connection
An internal bypass switch helps to reduce circulation
Negatives
Frequent pressure switch failures
Kolerflo Industrial Water Pressure Pump 
Kolerflo is the best 12V RV water pump designed to provide robust and reliable performance in the toughest conditions.
Additionally, the pump comes equipped with thermal protection, which means it'll automatically shut off once it reaches a specific temperature. This will help to protect the motor from any potential damage. 
Positive
Capable of priming up to 6 feet
Featured with corrosion-resistant valves
It automatically off and on if the faucet is on or off
Quick fittings hose connection
Negatives
USA Adventure Gear 3200 RV Water Pump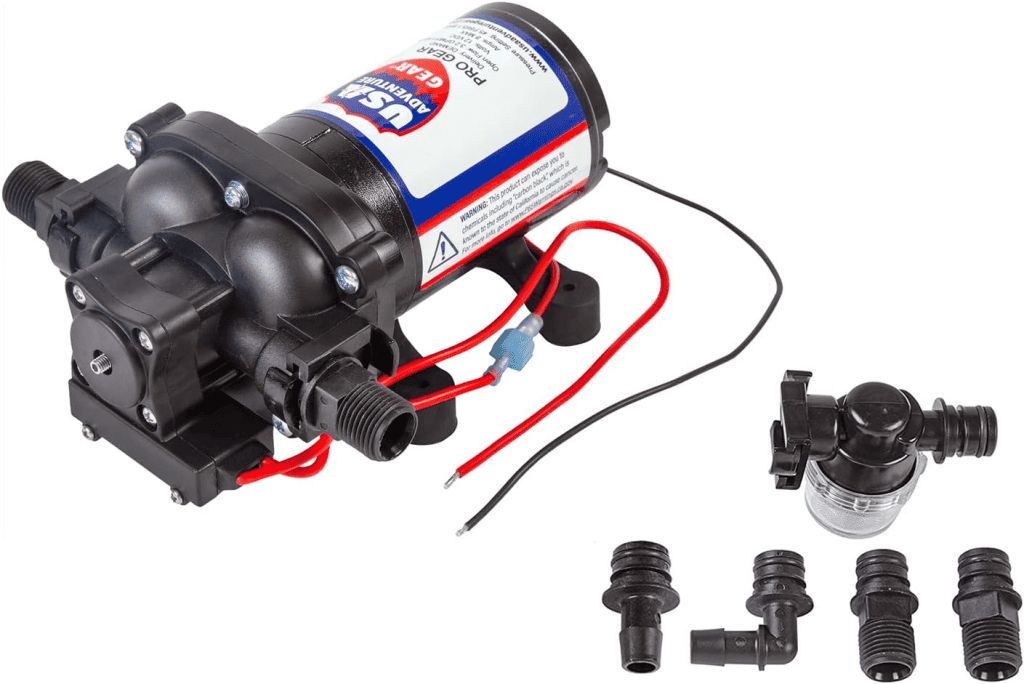 The USA Adventure is a great RV water pump for boondocking. It is designed to run dry without seizing up. It also works with various water sources, including potable water, so you can feel confident that your water is safe to drink.
The machine can pump up to 3.2 GPM at 150 PSI, so you can be sure your pump can handle even the toughest jobs.
Positive
10 feet priming capabilities
Quick attach inlet/outlet ports
Compatible with the most RV
Featured with automatic pressure switch
Negatives
The installation process requires plumbing skills
Camplux 12V DC Water Pump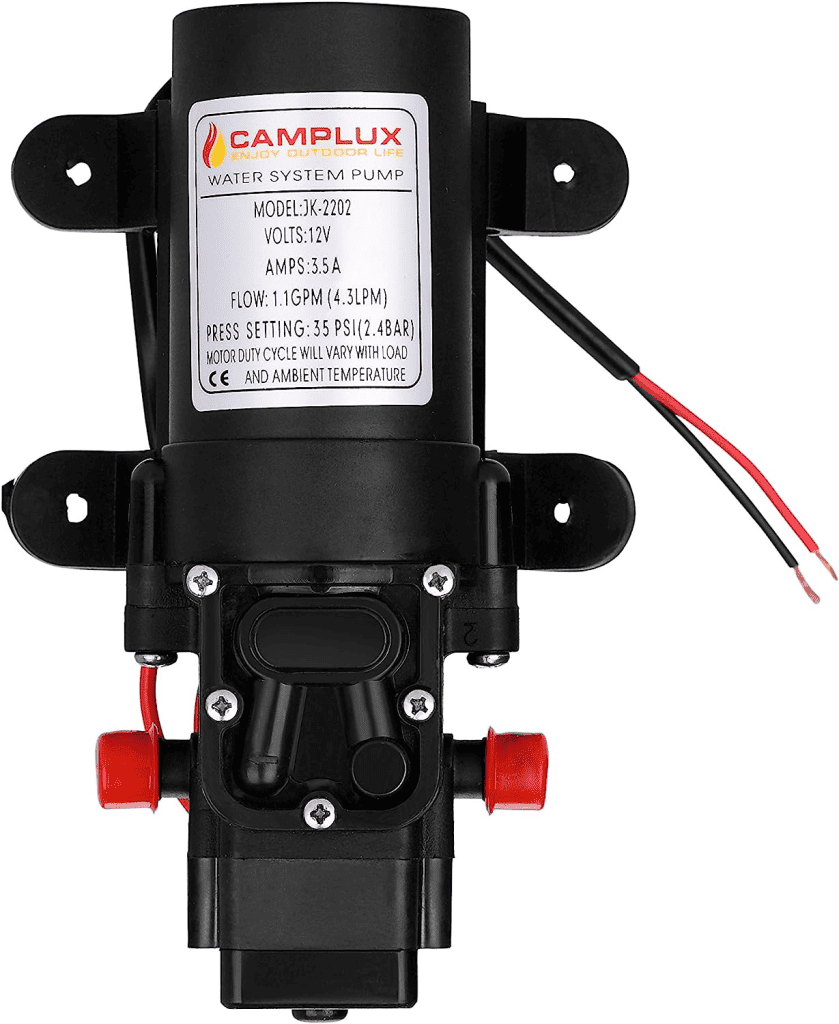 This high-quality diaphragm pump is designed for RVs, delivering a reliable water flow rate of 1.2 GPM.
Its compact and lightweight design makes it ideal for outdoor enthusiasts and those seeking a portable water solution. The waterproof design ensures that any water that enters the pump is kept out, protecting your investment.
Positive
Operates quietly and can function dry without damage
A user-friendly connection system
Low power consumption
Has the ability to self-prime
Negatives
Unsuitable for heavy-duty use
Remco 55-AQUAJET ARV Aquajet RV Series Water Pump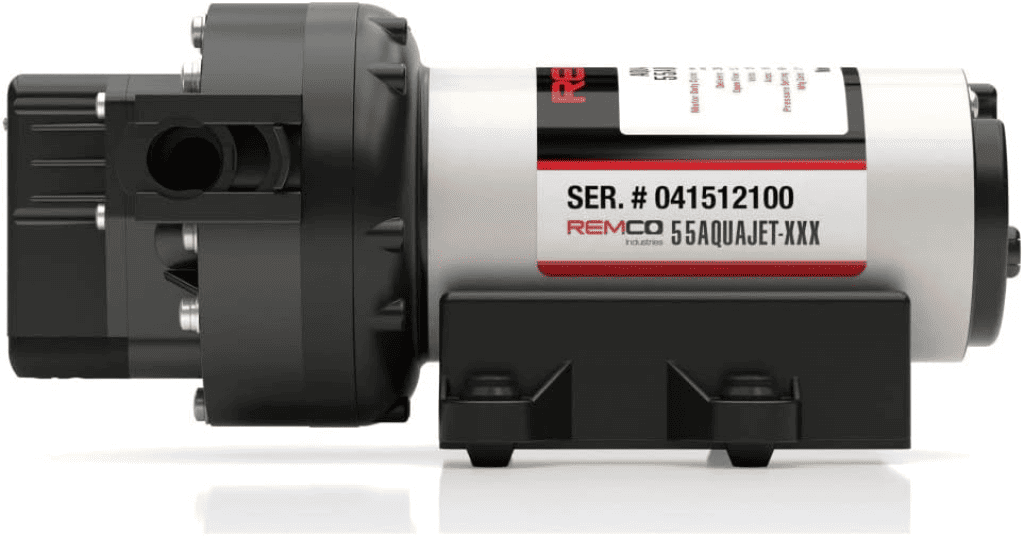 The Remco is one of the best RV water pumps. With innovative technology, the pump adjusts its speed to match the water demand, ensuring efficient and consistent water pressure.
The pump is constructed with highly durable material, so it can be used in a variety of applications, including RVs, boats, and homes. It features a five-valve design that ensures a consistent and precise flow rate. 
Positive
Made of high-quality materials
Built to last
Its pressure and flow rate are twice that traditional pumps
Corrosion-resistant construction
Its soft star property reduces rapid cycling
Negatives
Precitrade Shurflo 2088-554-144 Fresh Water Pump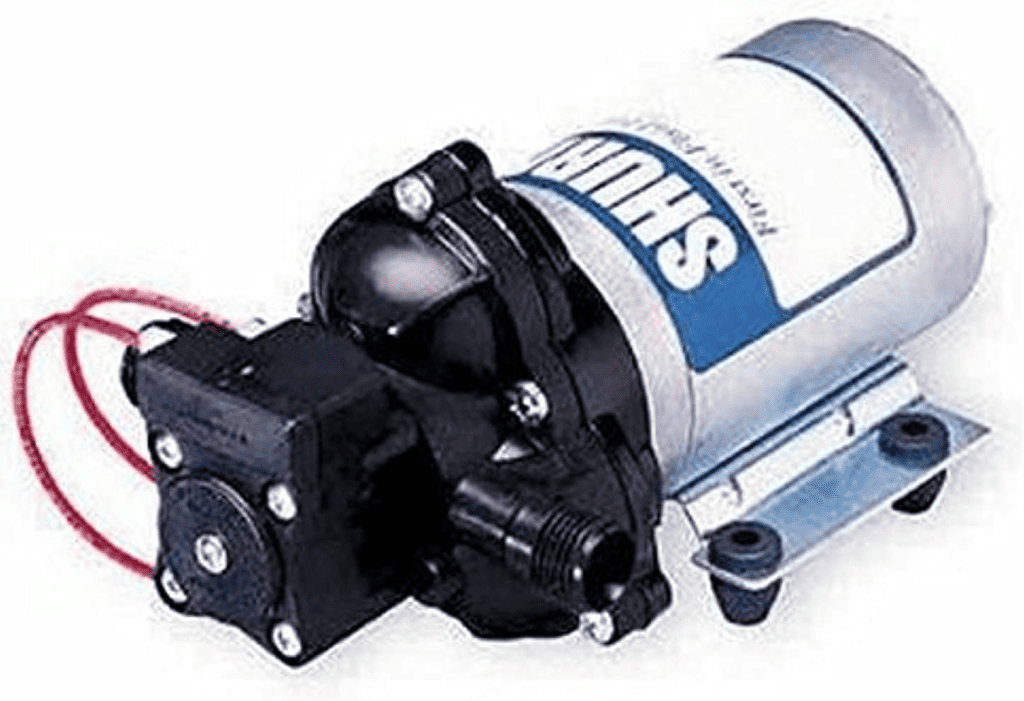 This battery-powered water pump is designed for the most demanding applications and can handle up to 3.5 gallons of water per minute. It's also designed to handle the reverse flow.
The permanent magnet motor uses less energy than conventional motors. This pump also features a 3-diaphragm chamber, which increases the flow rate and pressure, making it ideal for RV water systems.
Positive displacement helps to handle high pressures and higher viscosity fluids. The pump also features an automatic thermal protection mode to prevent overheating.
Positive
An handle high pressure
Automatic thermal protection mode
Can prevent reverse water flow
Full metal construction
Negatives
What to Consider When Buying An RV Water Pump?
When buying an RV water pump, there are several key criteria to consider. These factors will help ensure that you choose a pump that meets your specific needs and provides reliable performance. Here are some important considerations:
Flow Rate
The flow rate of the water pump indicates how much water it can deliver per minute, ypically measured in gallons per minute (GPM). Higher flow rates allow for faster water delivery, filling of tanks, and efficient use of multiple fixtures.
Consider your water usage requirements, such as the number of faucets, showers, and appliances you will be using simultaneously. Choose a pump with a flow rate that can meet your demand comfortably.
The ideal GPM (gallons per minute) for an RV water pump depends on your specific water usage requirements and the capacity of your RV's plumbing system. Generally, RV water pumps have a flow rate in the range of 2.5 to 5 GPM (gallons per minute), although some models may have higher flow rates.
Water Pressure
Water pressure is another crucial factor. This refers to the force or energy exerted by the water as it flows through the plumbing system. It is typically measured in pounds per square inch (PSI) or bar. Higher pressure ensures better water flow at the fixtures, improving your overall experience.
Adequate water pressure ensures a strong and consistent flow of water at the fixtures, enabling optimal performance during activities such as showering, dishwashing, or using the toilet. Insufficient water pressure can result in weak flows, slow filling of tanks, and unsatisfactory experiences.
Look for a pump that can provide sufficient water pressure throughout your RV's plumbing system to meet your needs and maintain comfort while using water fixtures in the RV. A typical range for RV water pump pressure is around 40 to 60 PSI.
Power Consumption
Energy efficiency is important to optimize power usage in your RV. Check the power consumption of the water pump and ensure that it aligns with the capabilities of your RV's electrical system. Look for pumps that are designed to be energy-efficient and draw low power.
Noise Level
Consider the noise level of the water pump, especially if you prefer a quieter RV environment. Some pumps are designed with noise-reducing features or technologies to minimize operational noise. Look for pumps that provide quiet operation without compromising performance.
Self-Priming Capability
Self-priming pumps are capable of drawing water from the source without the need for manual priming. This feature is convenient as it saves time and effort when setting up or switching water sources. Ensure the pump you choose has self-priming capability.
Durability and Build Quality
Look for a water pump that is built to withstand the rigors of RV travel. Consider the materials used, such as corrosion-resistant components, to ensure longevity. Read customer reviews or seek recommendations to gauge the reliability and durability of different pump models.
Ease of Installation and Maintenance
Consider the ease of installation and maintenance of the water pump. Look for pumps that come with clear installation instructions and have accessible fittings and connections. Additionally, check if the pump has replaceable filters and other easily serviceable parts.
Brand Reputation and Customer Support
Choose a water pump from reputable brands known for their quality and reliability. A well-established brand often provides better customer support, warranty coverage, and access to replacement parts, ensuring peace of mind and assistance when needed.
Price
Consider your budget and compare prices among different water pump models. While cost shouldn't be the sole determining factor, it's essential to find a balance between features, quality, and affordability.
By carefully considering these criteria, you can select an RV water pump that meets your specific requirements, delivers reliable performance, and enhances your overall RV experience.
FAQ About Water Pumps For RV
What is an on-demand water pump?
An on-demand water pump, also known as a demand or pressure-activated water pump, is a type of pump commonly used in RVs, boats, and other applications where a reliable water supply is needed. It is designed to automatically activate and provide water flow when a demand for water is detected, and it shuts off when the demand is no longer present.
These pumps provide a constant water pressure and reliable water flow throughout the plumbing system. They are often self-priming, meaning they can draw water without manual priming. On-demand pumps offer automatic operation, variable speed options, and quiet operation, making them convenient and efficient for delivering water on demand.
How long does a 12 volt RV water pump last?
The lifespan of a 12-volt RV water pump can vary depending on several factors, including the quality of the pump, frequency of use, maintenance practices, and operating conditions. However, on average, a well-maintained RV water pump can last between 5 to 10 years.
Regular maintenance, such as cleaning or replacing filters, checking for leaks, and ensuring proper voltage supply, can help prolong the lifespan of the water pump. Additionally, using the pump within its specified limits and avoiding excessive strain or overuse can contribute to its longevity.
Can I leave my RV's water pump on?
While it is technically possible to leave your RV's water pump on, it is generally not recommended to do so for extended periods of time.
Instead of leaving the water pump on all the time, it is generally recommended to turn it on only when needed, such as when you require water flow for faucets, showers, or other water fixtures. Once you have finished using the water, it's best to turn the pump off to conserve energy, reduce wear on the pump, and minimize noise.
However, there may be specific circumstances where it is necessary to keep the water pump on for short periods, such as when you are actively using water or if you have a continuous water demand, such as running a washing machine. In such cases, ensure that your RV's electrical and plumbing systems are designed to handle continuous pump operation, and monitor the pump's performance regularly.
Conclusion
The best RV water pumps offer reliable performance, are easy to install and maintain, and provide a steady water flow.
With the right model, you can keep your RV's water system running smoothly and efficiently. Hope you can find your desired model from our recommended list.