Are you a fan of RV camping and biking? If so, you know the necessity of having a secure and accessible bike rack for your travels. After all, transporting your bikes on the road can be challenging without the right equipment.
Thankfully, many different types and brands of racks are available on the market. However, finding the best RV bike rack for your needs can be overwhelming. You want a rack that securely holds your bikes and fits your RV model perfectly.
But don't worry, we're here to help! Let's explore some of the best options on the market so that you can confidently transport your bikes on your next adventure. To make your decision easier, we've compiled a list of RV bike rack reviews for you.
[wpsm_stickypanel][contents h2][/wpsm_stickypanel]
What Is an RV Rated Bike Rack?
A bike rack can be RV-rated when it meets the unique requirements of carrying bicycles on recreational vehicles or motorhomes. These racks are built to carry the weight of bikes and withstand the vibration and movement associated with RV travel.
Unlike traditional car bike racks, the best bike rack for RV is designed to absorb significant amounts of movement and vibration, ensuring your bikes remain securely in place throughout your journey.
To ensure that these bike racks can withstand the rigors of RV travel, they undergo rigorous testing by the manufacturer, making them reliable and durable. Additionally, most RV-rated bike racks are backed by a warranty for RV use.
An RV-rated bike rack is essential to ensure your biking experience is safe, secure, and hassle-free.
What are The Benefits of RV Bike Racks
RV bike racks offer several advantages for RV owners:
Convenience: RV bike racks allow you to easily bring along your bikes during your RV adventures. You can enjoy cycling and exploring new areas without the need for separate transportation or storage of bikes.
Space-saving: By utilizing a bike rack, you can free up space inside your RV that would have otherwise been occupied by bikes. This gives you more room for passengers, gear, or other equipment.
Enhanced travel experience: Having bikes readily available allows you to explore the surrounding areas or go on scenic rides near your campsite. It adds an extra dimension of outdoor activities and enjoyment during your RV trips.
Health and fitness: With bikes on hand, you have the opportunity to stay active and maintain your fitness while on the road. Cycling offers a great way to exercise and enjoy the outdoors simultaneously.
Cost-effective: Bringing your bikes along saves you from having to rent bikes at your destination or invest in additional transportation methods solely for cycling purposes. It can lead to cost savings in the long run.
Flexibility and freedom: RV bike racks provide flexibility in choosing biking routes and destinations. You can easily explore trails, parks, or scenic roads that might not be accessible by RV alone.
Compatibility with RV lifestyle: RV bike racks are designed to be compatible with the specific requirements and challenges of RV travel. They offer features like stability, security, and proper weight distribution that are tailored for safe and efficient bike transport on RVs.
Overall, RV bike racks enhance the overall RV experience by offering convenience, saving space, promoting active lifestyles, and providing more opportunities for exploration and enjoyment during your travels.
What are Different Types of RV Bike Rack?
There are several different types of RV bike racks available on the market. Each type has its own advantages and considerations. Here are some of the most common types:
Hitch-mounted bike racks
Hitch-mounted racks are one of the most popular choices for RV owners. These racks attach to the hitch receiver on the back of the RV. They offer stability and can typically accommodate multiple bikes.
Hitch-mounted racks come in various designs, including hanging-style racks where the bikes hang from horizontal arms and platform-style racks where the bikes rest on individual trays. They are easy to install and provide convenient access to the rear of the RV.
Bumper-mounted bike racks
Bumper-mounted racks attach to the RV's bumper and are suitable for RVs with a sturdy bumper. They are typically designed for smaller RVs or trailers.
Bumper-mounted racks often have a lower weight capacity compared to hitch-mounted racks and may not be suitable for heavy or large bikes. It's important to ensure that the bumper is capable of supporting the weight of the bikes and rack.
Ladder-mounted bike racks
Ladder-mounted racks attach to the ladder at the back of the RV. These racks are suitable for RVs with a ladder and are often lightweight and compact.
Ladder-mounted racks are typically designed to carry one or two bikes and are convenient for quick installation and removal. However, they may not provide as much stability as hitch-mounted racks.
Roof-mounted bike racks
Roof-mounted racks secure the bikes on the roof of the RV. These racks require a roof rack or crossbars for installation. Roof-mounted racks are a good option if you prefer to keep the back of your RV free for other accessories or if you have limited hitch or bumper space.
However, loading and unloading bikes on the roof can be more challenging and may require additional effort or equipment like a step stool or ladder.
Spare Tire-mounted bike racks
Spare tire-mounted racks are designed specifically for RVs that have a spare tire mounted on the back. These racks attach to the spare tire and can typically accommodate one or two bikes.
They are a convenient option if you have a spare tire and don't want to use the hitch or bumper for bike transport. However, it's important to ensure that the rack does not obstruct the view of the license plate or taillights.
Truck bed-mounted bike racks
If you have a truck that you use for towing your RV, you can consider using a truck bed-mounted bike rack. These racks secure the bikes in the bed of the truck, allowing you to transport them separately from the RV.
They are a flexible option that provides easy access to the bikes and allows for additional cargo space in the RV.
It's important to note that not all types of bike racks are suitable for every RV model. Consider your RV's specific design, weight capacity, and your preferences when choosing the most appropriate type of rack for your needs.
Best RV Bike Rack: In-depth Reviews
Not all bike racks are built the same, and choosing the right one can be daunting. To help you with your search, we've compiled a list of the best RV bike rack models on the market.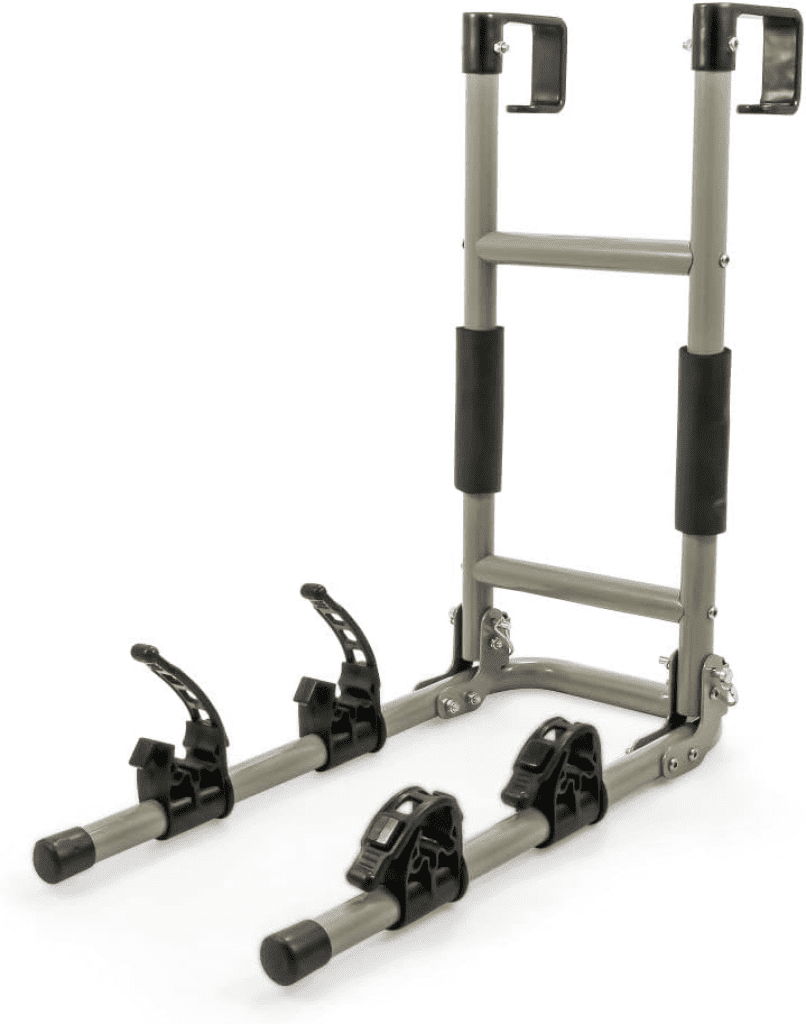 A good bike rack should securely hold your bikes while moving and be easy to use and install. That's where the Camco RV bike racks for travel trailers come in. This is the best RV bike rack designed for RVs and campers and can securely hold two bikes.
One of the standout features of this bike rack is the adjustable straps that provide extra security for your bikes. The straps are easy to use and can be adjusted to fit bikes of different sizes and shapes.
The Swagman is one of the best, if not the best RV bike rack on the market. It's designed specifically for RVs and travel trailers, with a bumper mount adapter that fits onto 4-4.5 inch continuous welded steel bumpers.
The rack can hold up to two bikes, with a weight capacity of 35 lbs per bike. The Swagman also features an upright arm design that keeps your bikes fixed and prevents them from swaying.
This unit is one of the best bike racks for RV ladder. It comes with 41 accessories, so you don't need to purchase additional components for mounting and unmounting.
Its SwayControl ensures your bikes stay securely in place, even on bumpy or winding roads. NoMotion pins are designed to lock in place and prevent movement between the bike rack and trailer.
The Swagman bike racks for RV are the perfect solution for RV enthusiasts who want to bring their bikes on their next adventure. It has a max weight capacity of 30 lbs/bike, so you can rest assured that it can easily handle even the heaviest bikes.
One of the main features of the bike rack is its use of secure U-Bolts. These U-Bolts provide added stability and security to your bikes during transport, ensuring they stay in place and don't wobble or move around while driving.
Swagman is the perfect bike carrier for travel trailer designed to fit most RVs. It can hold up to two bikes with a maximum weight of 45 lbs each.
This bike rack features padded hooks that secure your bikes without scratching or damaging the frames. These adjustable hooks can be moved to accommodate different bike sizes and shapes.
The Quick Products bike rack is another best RV bike rack designed to provide a hassle-free and convenient way to carry your bike wherever you go. It features an adjustable mounting system that allows you to secure your bike quickly and easily.
Additionally, the rack comes with an adjustable stabilizer and width post that can be moved up or down to fit your bike's frame, ensuring a snug and secure fit.
One of the most significant advantages of the Surco rack is its durability. It's made of heavy-duty aluminum, which means it can withstand road vibrations and other challenges of RV travel.
Another great feature of this bike rack is its ease of installation. You don't need special tools or skills to get it up and running.
This RV ladder bike rack is perfect for fun and adventurous family road trips, providing ample space for multiple bikes. Loading the bikes onto the rack is easy.
The rack has a weight capacity of up to 80 pounds, making it suitable for most types of bicycles. Its adjustable padded hooks ensure a secure hold on your bike without scratching the frame.
This innovative bike rack for RV trailer is designed specifically for campers and RVs. It can handle the unique challenges of transporting bikes on the road.
The wheel cradles are designed to fit onto the back of most campers. They can hold up to four bikes with a total weight capacity of 500 lbs.
The L-style tie-down design provides a secure and stable way to attach your bikes to the rack. It ensures your bikes won't shift or bounce around on the road.
It also features wheel slots to accommodate various bike sizes and styles. The wheel slots are adjustable, allowing you to customize the spacing to fit your bikes.
How to Choose The Best Camper Bike Rack?
Choosing the best RV bike rack is essential for anyone who loves to travel and explore the outdoors with their bicycles. A bike rack allows you to securely transport your bikes on your RV without worrying about damage or instability.
With the variety of options available in the market, it's important to consider several factors to ensure you choose the most suitable rack for your needs. In this guide, we'll explore the key factors to consider when selecting the best RV bike rack.
Rack Type
There are different types of RV bike racks available, each with its own advantages and limitations. The most common types include hitch-mounted racks, bumper-mounted racks, ladder-mounted racks, and roof-mounted racks.
Hitch-mounted racks are the most popular choice as they are easy to install, offer good stability, and can carry multiple bikes. Consider your RV's specific design and your preferences to determine the most suitable rack type.
Bike Capacity
Consider the number of bikes you plan to transport on your RV. Bike racks typically come in various capacities, ranging from 2 to 5 bikes. Ensure that the rack you choose has sufficient capacity to accommodate all your bikes comfortably.
Weight Capacity
Check the weight capacity of the bike rack to ensure it can support the weight of your bikes. Consider the weight of your heaviest bike and ensure that the rack has a sufficient weight capacity to handle it.
It's important not to exceed the rack's weight limit, as it can lead to instability and potential damage.
RV Compatibility
Ensure that the bike rack is compatible with your RV's specific design. Some racks may not be suitable for certain RV models or may require additional adapters or modifications. Check the manufacturer's specifications and recommendations to ensure compatibility with your RV.
Stability and Security
Look for a bike rack that offers sturdy construction and secure bike mounting options. The rack should provide stability during travel, preventing excessive movement or swaying. Consider racks with anti-sway features or integrated locks to secure the bikes and prevent theft.
Ease of Installation and Use
Consider how easy it is to install and use the bike rack. Look for racks that come with clear instructions and require minimal tools for installation.
Choose a rack that allows for easy loading and unloading of bikes, with convenient features like folding arms or tilting mechanisms to access the rear of the RV without removing the bikes.
Durability and Weather Resistance
Ensure that the bike rack is made of high-quality materials that can withstand the rigors of travel and exposure to different weather conditions.
Look for racks with durable coatings or finishes that resist rust and corrosion. It's also beneficial to choose a rack with features like UV protection to prevent damage from prolonged sun exposure.
Compactness and Storage
Consider the size and storage requirements of the bike rack when not in use. Some racks can be folded or collapsed for compact storage, which is particularly important if you have limited space available in your RV.
Reviews and Recommendations
Before making a final decision, read customer reviews and seek recommendations from other RV enthusiasts. Feedback from people who have used the bike rack can provide valuable insights into its performance, durability, and overall user experience.
Budget
Finally, consider your budget and choose a bike rack that offers the best combination of features and value within your price range. While it's important to invest in a quality rack, there are options available at different price points to suit various budgets.
By considering these factors, you can confidently choose the best RV bike rack that meets your specific needs and enhances your outdoor adventures. Remember to prioritize safety, ease of use, and durability to ensure a smooth and enjoyable biking experience during your RV travels.
Remember, the installation process may vary depending on the specific rack and RV you have. Always refer to the manufacturer's instructions for the most accurate and detailed installation steps. If you're unsure or uncomfortable with the installation process, it's recommended to seek professional assistance or consult an RV technician.
FAQ about RV Bike Racks
Conclusion
When searching for the best RV bike rack, it's essential to consider factors such as compatibility with your RV, the number of bikes it can hold, its security features, and ease of use.
With the right bike rack, you can embark on exciting cycling adventures while on the road and easily explore the great outdoors.